Conceptual Product Development
Art Direction
UI/UX Design
CONTEXT
I created a responsive website for an e-commerce business. I decided to go with a speculative venture into time travel tourism because I am a big space-time theoretical nerd. Two, I was interested in taking on the challenge of something that doesn't exist. Three, I learned what it's like working in an innovative environment where user research options are minimal since I can't ask users what they think about something that doesn't yet exist. Though the concept of time travel isn't practical to date, the user-centered design processes and principles that I used to get to the solution can apply to any project. You will see user research, competitor analysis, personas, wireframes, site maps, and more!
THE BACKGROUND
RICHARD BRANSON'S RACE AGAINST TIME
From Sci-Fi classics ranging from Back To The Future to Terminator 2, humans and Hollywood has always had an infatuation with time travel. The plausibility of this feat has always been in question but is now possible. Indeed, these are exciting times to live in!

ZEIT is a subsidiary of Richard Branson's Virgin empire. After a long struggle with Elon Musk, Virgin has made time travel tourism available to all of us.
THE PROBLEM
USING TODAY'S TRAVEL TO PLAN FOR TOMORROW'S
Thinking about today's travel agency packages, ZEIT wants to make the selling of the tickets as easy as possible. People will be able to shop for trips similarly to how one shops today for books or movies--by finding what interests them, reading more about the options, and making a purchase decision. With many different events in the history of time, the travel destinations are endless. I had to ask myself, "How might we help the users discover travel destinations in such a new and innovative field while earning their trust?"
THE PROBLEM
HYPOTHESIS
"Users between the ages of 18-30 will be more interested in visiting the future, while users between the ages of 31-60 will be more interested in going to the past."
WHERE TO GO?
Human history is speculated to span the length of 200,000 years, meanwhile Earth's history is 4.5 billion years. So narrowing down the available destinations was priority number one, finding what the "hotspot" destinations are and why people want to go. Understanding this gave me a great starting point for what the users want to get out of ZEIT and how to market to specific groups.
THE SOLUTION
RESPONSIVE WEB DESIGN
By designing a responsive e-commerce website, ZEIT can easily allow users to browse and purchase tickets for their trips. In addition, users can sort, categorize, and filter their trips by type, time, location, and event. ZEIT will also include user reviews, ratings, and an About page to better familiarize them with what they are about to embark on to build the user's trust in this new industry.
SITE MAP
I learned a lot from the research I conducted. I took all the information I gathered, listed all the features that would be helpful for users to have, including sorting/filtering options, packages, FAQs, etc. and laid everything out in a site map.
AGES 18-30
WHY?
More unlived life than life lived, so they are curious about what's next to come in the world and if the decisions they are making today are the best decisions for their future.

These users are most familiar and comfortable with technology. Seeing where technology will go next could also be a big motivation to go to the future.
AGES 31-60
WHY?
More life lived than life to live, so reliving certain moments and events could be a motivator for past traveling.

A nostalgic form of therapy or entertainment. Possibly address personal regrets in the past.
Identify which points in time are destination "hotspots"

Identify why users want to travel to these destinations
In-person interviews

Survey via Instagram
AGES 31-60
GROUP C
Survey via Instagram

141 Participants

Mixed genders
IN GROUP A
of the 18-30 year old users wanted to go to the future
IN GROUP B
of the 31-60 year old users wanted to go to the past
USERS IN BOTH GROUPS
When given the option to choose ANY travel destination in the past, ALL user picked destinations from the last 100 years
USERS IN BOTH GROUPS
ALL users believed in destiny. Whatever has happened was meant to happen
FROM SOCIAL MEDIA SURVEY
78%
of people would relive a past moment of their life
of those same people would try to change those past moments
The user interview results showed me that there are two different types of people within my test group. From these results I created user personas.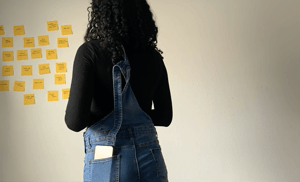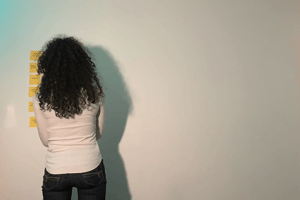 HOW TO CATEGORIZE
CARD SORTING
At this point in my research I had a pretty good idea of WHERE users wanted to go, but now I had to decide on HOW to filter, sort, and categorize those destinations in the most efficient way.

I conducted an open card sorting exercise to see how users would categorize a variety of different events.

The exercise featured 23 cards with a destination on each, some in the distant past, some in the recent past, and others in the future.

I told each of the 4 users to categorize the cards in ways that make the most sense and then name those categories
THE RESULTS
was the most consistent pairing category amongst the users
100%
of users had at least 1 card that they weren't sure how to categorize due to lack of knowledge on the event
50%
of users separated events by time period. The other 50% separated events by more abstract topics
BRANDING
I designed the ZEIT logo by combining the letter Z and an analog clock, representing time travel. The initial color scheme was chosen based on what ZEIT represents. Blue, being the primary color, is representative of which is trust, confidence, and technology. As mentioned earlier, the users need to trust this new and innovative technology.
WIREFRAMES
I wanted to focus on the homepage for ZEIT more than anything. First impressions never have a second chance, so I wanted it to be an enjoyable experience. I designed a handful of concepts and experimented with different design elements and interactions.
Giving a quick intro about how ZEIT works and providing customer reviews is crucial to building user trust. This way, users like Nancy would feel more comfortable embarking on her journey.
Humans naturally enjoy interactions. When we swipe or scroll, we never know what's coming next; pair that with a cool yet simple animation, and it makes the experience that much more enjoyable.
I wanted to make sure to display a variety of destinations right away. Thus, peaking the users' interest and making them want to explore more and see what else is available.
USER TESTING
Study how easy it is for users to find the given destination

Observe how long it takes users to book given destination

Watch the process of destination discovery

Learn from users what would make using the site easier
Remote and in-person usability testing

User interviews
RESULTS
IMPROVED BRANDING
Accessibility was an issue during testing, so I improved the color scheme by making the blue darker and adding a pop of its complementary color, orange, into the CTAs. The darker blue is also better for readability when using white for the body and headers.
DESIGN CHANGES
After receiving excellent feedback from the participants and reviewing my notes and the recordings, I reiterated the designs to create a better user experience.
Once users are better informed about the destinations, they can book a destination in the packages section. When the package is selected, an area to select a date and number of travelers will appear. Lastly, a few reminders for the users to consider when traveling with ZEIT.
CHECKOUT
On the left side is the information for the user's trip, including the total cost. On the right is the user's login and personal info. When the information has been filled in correctly, the trip is booked and validates this with a personal thank you from ZEIT. From here, they can view the complete itinerary or go back to the home page.
MOVING BEYOND THE HOMEPAGE
HOW IT WORKS
CONCLUSION
LESSONS LEARNED
This project has taught me what it's like to work on an innovative project and conduct user research when experiences on that topic are scarce. In addition, I learned how to make connections to similar experiences to get the information that I need. I also learned a lot about the responsiveness of websites, breakpoints, and how to create an enjoyable experience on both desktop and mobile.
NEXT STEPS
My next step will be to design the About page. This is likely where the most user trust would be earned. I would also like to explore the search and keyword tagging option and then conduct further testing.
​
I am looking forward to continuing to improve on this project, and I look forward to sharing soon. In the meantime, please check out my other projects!